<![if !vml]>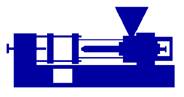 <![endif]>
Karoly Greguska
Expert in plastic injection moulding
Address: Diófa u. 7.
Budapest, 1038 Hungary
Tel/Fax: (+36) 1 243-8469
E-mail: greguska@muanyag.co.hu
Plastic injection moulding
The main activity of the enterprise is injection moulding of plastics. Our fleet consists of automatic injection moulding machines. Quality processing is supported by the employment of conveying, master batch, as well as high performance dryer, water and oil tempering equipment. At request the enterprise also undertakes post-production finish of the finished goods.
Repairing injection moulding machines
Repairing the electronic, hydraulic and mechanic faults of KuASY injection moulding machines. The enterprise holds considerable stocks of original and later produced spare parts.